About The Flower Shop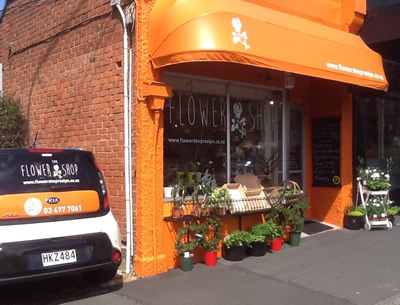 The Flower Shop Roslyn is located in the Roslyn Village - midway between Maori Hill, Belleknowes, Mornington and only minutes away from Halfway Bush, Wakari and Kaikorai. Deliveries can be made 5 days of the week, as our courier (flowers only) calls on the hour last pick up 3pm.
Our mission is to ensure your shopping experience is simple and easy so you can arrange the perfect gift for your occasion. We pride ourselves on understanding our clients and their needs. Our flowers are strictly seasonal.
I bought the existing Flower Shop Roslyn in April 1991 as an interest but it has grown into a very diverse and busy little shop. I love the 'personal shopper' side to my business where I get to put together just the right combination for every occasion. That is very important to us at The Flower Shop and this is why we feel we are Dunedin's Favourite Florist.
We are constantly working on new designs and upskilling to keep our product both fresh and affordable as we want our clients to be satisfied and recommend us to others.
Please feel free to ring me.
Jude Trim owner/florist